Nancy Callan: About the Artist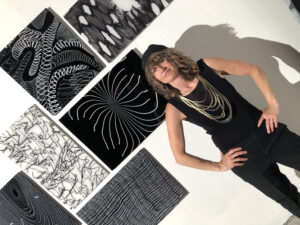 Nancy Callan grew up near Boston, MA, working as a pizza-maker, band roadie and graphic designer before attending the Massachusetts College of Art (BFA 1996). A chance peek into the hot glass studio changed the trajectory of her life; she was entranced by the fluid, glowing material and the demanding choreography of working at the furnace. In 1996 she relocated to Seattle, WA to join maestro Lino Tagliapietra's glassblowing team, rising to a key position as his assistant and traveling internationally to teach and demonstrate the craft. Through this nineteen-year apprenticeship, Callan mastered the traditional Venetian glassblowing techniques that are the foundation of her innovative work with line, pattern and color. She continues to blaze a trail as an LGBTQ woman, helping to inspire, teach and mentor the next generation of diverse artists in glass.
Callan began exhibiting her work in the 2000s; her first solo exhibition featured vessels and sculptures made during a residency at the Creative Glass Center of America at Wheaton Village in NJ. Residencies, workshops and collaborations continue to feed her practice and create space for experimentation. An avid fan of vintage pop culture and contemporary fashion, Callan's work brings a modern sensibility to the material and processes of hot glass working.
Nancy Callan is represented by galleries throughout North America. Her artwork is held in numerous collections including the Museum of Glass (WA), Microsoft Collection, Chrysler Museum (VA), The Mint Museum (NC), Peabody-Essex Museum (MA), Barry Museum (VA), Corning Museum of Glass (NY) and the Shanghai Museum of Glass (China).